Irish rock band Fontaines D.C. memorializes, mourns gentrifying Dublin
Andy Downing
adowning@columbusalive.com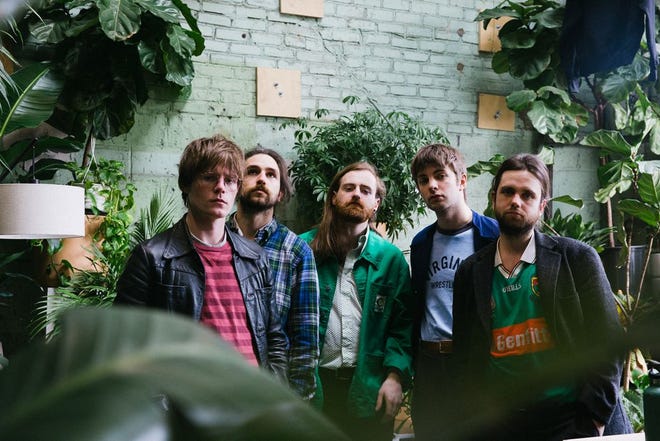 Early on Dogrel, the explosive 2019 debut full-length from Irish rock band Fontaines D.C., singer Grian Chatten repeatedly sneers, "My childhood was small, but I'm gonna be big!"
While the frontman could have been forecasting the fate of the admittedly ambitious five-piece, his tone here is sarcastic, embodying a character that bassist Conor Deegan described as typical of Dublin.
"It's a character who has a lot of ambition, but there's a lot of bravado tied up in that ambition," said Deegan, who joins his bandmates in concert at Ace of Cups on Thursday, Sept. 12. "It's that ambition tied up in ego tied up in escaping the class and socio-economic situation you're born into by going, 'I'm going to be bigger than this, I'm going to be better than this, and I'm going to be big.' … They're asserting their masculinity and dominance. It almost makes more sense if you have lived in Dublin for any period of time 'cause it's the kind of character you see around a bit."
Thank God gentrification isn't an issue in Columbus like it is in Dublin:

Sign up for our daily newsletter
Dublin remains an essential character throughout the musically diverse Dogrel, which laces together overcast post-punk tunes, staccato guitar burners and, on the album-closing "Dublin City Sky," genteel Irish ballads. Collectively, the album finds the band both romanticizing the city of its youth and mourning the scarring effects of gentrification and a money-driven culture on its present.
"Money is the sandpit of the soul," Chatten repeats on the searing "Chequeless Reckless," which neatly distills the band's opinion of capitalism.
"It felt like a small community back then, almost a town-vibe, where I'd be given money by my grandmother to go down to the corner shop and buy some sweets," said Deegan, who cited a massive population boom as one of the driving factors in Dublin's evolution. "Now it's very much become a city where people are not as trusting, which is sad. … Then, I'd talk to me neighbors. Now, no one knows each other anymore, which is sad. But that's typical of most cities anymore, isn't it?"
A more romanticized version of the city arises on "Dublin City Sky," a song drunk with the possibility of those early morning hours before everything whirs to life. "To know you is to love you and I love you even still," the narrator sings, stumbling along with a girl on his arm, his words seemingly directed to the skyline rather than his companion.
"It's one of those personal moments in Dublin that really makes the city feel like yours, where you're intrinsically locked into the narrative of your life," Deegan said. "One of those little moments where you're walking down the street and an event happens and it makes this matrix of your life and experience in Dublin."
Coming into Fontaines, the musicians only had a loose idea of what they hoped to accomplish.
"We started the band with a very idealistic but very together idea, in that we wanted to be a rock and roll band, and then we kind of discovered what that term meant together," Deegan said. "We got into the Strokes together. We got into the Cure together. And, because of all these things, we have very similar ideas of what different sounds mean, and what certain bands mean to us. So while it's diverse, it's still coherent. We can approach different sounds and it makes sense to all of us."
Making Dogrel, the musicians wanted to record quickly and direct-to-tape, capturing a raw, immediate, in-the-room sound — an approach that, much like Dublin, Deegan sees evolving when the band enters the studio to begin work on a follow-up later this month at the close of this current tour.
"I think now that it's been a bit of time since we released [Dogrel], we look at things like production and certain sounds and what we want to do differently for the second record," Deegan said, adding that the new album is written, and the band has been playing new material on this tour. "Often when bands go into the studio, they use it to capture this more hi-fi version of the sounds in their head. ... I think that's great, and it's probably what we're going to do on the second album, where the first was really, 'Take us as we are.'"
Ace of Cups

8 p.m. Thursday, Sept. 12

2619 N. High St., Old North

aceofcupsbar.com

ALSO PLAYING: Pottery
Fontaines D.C.