Columbus concert venues embrace vaccination proof but potential Statehouse threat looms
House Bill 248, which would restrict the ability of private businesses to put vaccination requirements in place, could damage public health while also adversely affecting Ohio's live music industry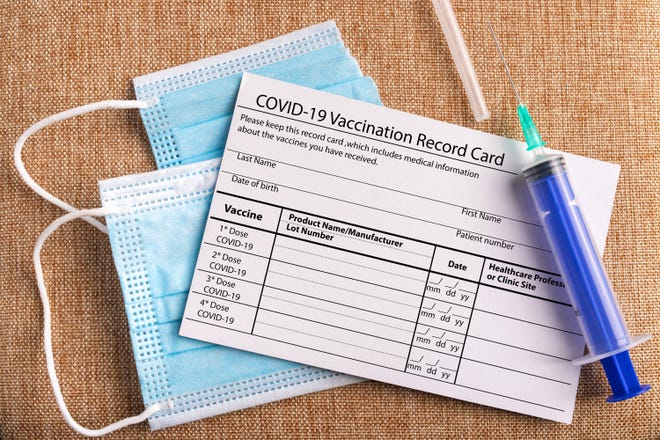 Throughout the pandemic, Johnny Collins worked in a public-facing role managing a Donatos Pizza — a stretch of time during which his store witnessed a steep increase in business, putting him face-to-face with more customers than in the days before the coronavirus hit U.S. shores. And yet, Collins managed to navigate the COVID landscape without once falling ill, which partly informed his initial wait-and-see attitude toward getting the vaccine.
"I was definitely trepidatious [about the vaccine] in the beginning," said Collins, who took care to socially distance, mask up and keep his hands sanitized as he navigated work and home life. "[Vaccination] was definitely something I considered, because I wanted to end the shutdown, and I wanted to be out with everybody. I just didn't want to be the first one to get it, to be the one to test the waters."
For Collins, a tipping point arrived in the form of a June 19 concert/comedy show staged at the Vanderelli Room by friend Mel Millimen of Lampshade Media Presents, which set an admission price of a valid COVID-19 vaccination card. So, in the weeks before the event, Collins made an appointment at Crosby's Drugs, where he received a single dose of the Johnson & Johnson vaccine.
"I was already leaning toward [being vaccinated], but when Mel set that [policy], it was basically like, 'Hey, we're a community, and we want to be together, and we all want to be safe,'" said Collins, who will perform a comedy set as part of a comedy show and dance party at Rumba Cafe on Saturday, Aug. 21 (proof of vaccination is required for entry). "Getting the vaccine was important to do. ... I wanted to get back to being around people who were following their passions, and me following my passions, and I wanted everyone to feel safe. It was just that time."
Collins' decision is one that many vaccine-hesitant music lovers have had to wrestle with in recent weeks, with industry giants such as AEG Presents and Live Nation establishing vaccine requirements for all of their properties and events, joining promoters and independent venues across the nation and here in Columbus. These new regulations arrive amid the current delta-driven surge in COVID-19 cases and are designed to protect public health, as well as the viability of the live music industry, which had been all but decimated by more than 16 months of lockdowns and associated restrictions on attendance.
"People who work at the venues and who work in the music business understand," musician Jason Isbell said during an interview on MSNBC in which he explained his reasons for adopting a policy of only playing concerts at venues that require either proof of vaccination or a recent negative COVID test. "All the response I've gotten from people in the business has been positive because they understand we could go back to not working at all. A lot of these smaller venues, they're not going to be able to reopen if they go through another round of shutdowns."
Local promoter Celebrity Etc. recently established a proof-of-vaccination/recent negative test policy for all of its Columbus shows, which are staged at venues including the Athenaeum Theatre, Skully's Music-Diner and Rumba Cafe. With the decision, Celebrity Etc. joins a cavalcade of local promoters and venues already operating under policies that require concert attendees to provide either proof of vaccination or a recent negative COVID test (click here for a current list of COVID-related policies by venue).
Timothy Eddings of Celebrity Etc. said the company adopted the new policy after seeing the numbers released by the City of Chicago following the recent Lollapalooza Music Festival, which required all attendees to provide either proof of vaccination or a recent negative COVID test. Despite standing-room-only crowds well in excess of 100,000 per day, Chicago health officials reported only 203 coronavirus cases linked to the fest.
"The thing about it is, we don't want to do things that don't work, especially if you're putting your people on the front lines in a position where they're getting screamed at," said Eddings, noting that enforcement of these policies tends to fall on low-level venue workers who might be angrily confronted by people upset with the rules. "With our bigger shows at the Athenaeum, there's a police officer there, and a lot of people at the box office, where at Rumba, you might have one person at the door dealing with whatever happens. … But when I first read the CNN report on the numbers from Lollapalooza, that was the moment I felt like the hassle might be worth it."
For PromoWest Productions, the decision to require either proof of vaccination or a recent negative COVID test was largely taken out of its hands, with the policy set in place by AEG Presents, which acquired the company in 2018. Prior to the early August announcement, however, a representative for PromoWest said the industry was trending toward establishing vaccination requirements due to pressures from touring artists, many of whom, like Isbell, started to make these regulations a requirement to perform.
"We were in danger of losing a lot of our shows [without vaccine requirements]," said PromoWest marketing director Marissa McClellan. "If we wanted to stay open and continue having live music, this is what had to happen."
The increased push toward concert venues requiring proof of vaccination in the state is somewhat complicated by a piece of legislation currently making its way through the Ohio House of Representatives. House Bill 248, sponsored by Rep. Jennifer Gross (R-West Chester) and dubbed the Vaccine Choice and Anti-Discrimination Act, would prohibit private businesses from establishing vaccine requirements. And not just for COVID-19, but for vaccinations of any kind. (Gross' office did not reply to an interview request submitted by Alive.)
"I'll never patronize a business that wants me to be vaccinated against meningitis. I want to spread that," cracked Dylan Baldi, singer and guitarist for Cleveland-based rock band Cloud Nothings, which is sticking to venues that have established proof-of-vaccination policies for its current tour, which visits Ace of Cups on Tuesday, Aug. 24. 
"House Bill 248 is dangerous. It impacts all of us, not just in the context of COVID, but all vaccines," said Rep. Beth Liston (D-Dublin), who is also a physician. "The Democratic caucus believes strongly that we should be following science and evidence-based policies, which includes encouraging vaccination … and ensuring that businesses and communities can put safety measures in place."
Liston noted how, at times, the debate around public health has been driven by the loudest voices in the room, who don't necessarily speak for a majority of Ohioans. (Testimony on H.B. 248 is scheduled to be heard on Tuesday, Aug. 24; opponents and proponents must submit testimonies by 5 p.m. on Friday, Aug. 20.)
"We've had hearings on this bill where testimony from people who say that vaccines magnetize people, or give them 5G connectivity, has been given a platform," Liston said of the conspiratorial element that has been given voice on the floor of the Statehouse. "I would hope those rational voices would be more impactful, but unfortunately it's a lot of those loud, extreme voices that keep being heard. … I'm optimistic we can make sure that those on the health committee and those in the General Assembly have the real information to make an informed choice, but I do think it's going to take advocacy to overcome some of the misinformation."
While opposition to the bill has rightly focused on the potentially wide-ranging damage the legislation could have on public health in the state, an unforeseen side effect could be the crippling of the live music industry in Ohio. With businesses unable to set vaccine requirements, there are bands and performers who would bypass the state altogether, PromoWest CEO Scott Steinecker said in an email response to an inquiry from Alive.
"This would have a huge impact on the concert industry in Ohio," Steinecker wrote. "Ohio would definitely get skipped."
Mike Gatto, general manager of Nationwide Arena, said he has been closely following H.B. 248, game planning with his team for potential scenarios while waiting to see how arenas might be impacted if the legislation does become law. "It continues to be uncharted territory, certainly, after 17 months of uncharted territory," he said. "We'd have to figure out, from a legal standpoint, what we could or could not do if a tour makes a specific request that's contrary to what the legislature wants. … My hope if something like that happened is that it would be more of a postponement than a cancellation."
In addition to the potential for lost concerts, Eddings of Celebrity Etc. said the inability to require proof of vaccination would also decrease an already tenuous comfort level that some concertgoers have in attending live events amid the spread of the delta variant.
"The last couple of weeks, people just don't feel comfortable being in a crowded room again," said Eddings, who estimated Celebrity Etc. shows are currently averaging 30 percent no-shows, or people who have purchased tickets but don't attend or request a refund. "So if it was all of a sudden illegal to have a requirement in place that helps people feel more safe, that would be bad."
Regardless, Eddings and others view these current proof-of-vaccination requirements as a temporary way to navigate these murky pandemic days, hopeful for a near-future when concertgoers can gather freely and without these attendant, pandemic-driven fears.
"I don't want this to be the new normal," Eddings said. "I want the [COVID] numbers to get better to where this is hopefully a thing we don't have to worry about three or six months from now. That would be amazing."