Daily Distraction: Go back in time with Ghost Shirt
One of the Columbus greats returns to Big Room Bar on Saturday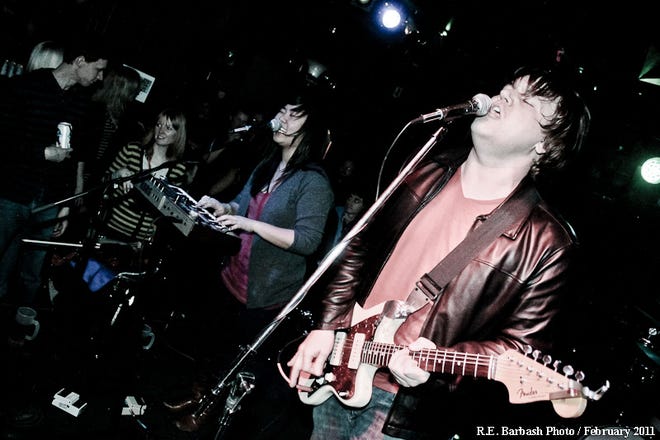 Ghost Shirt is one of my all-time favorite Columbus bands. Led by singer and principal songwriter Branden Barnett, the group is like the poppiest version of the Replacements or the scruffiest version of the Whiles, depending on the song, with some chamber-pop flair courtesy of violinist Samantha (Kim) Schnabel.
Back in the day, I used to co-run the music blog Donewaiting.com, which you've probably never heard of if you're under 30, and if you're over 30, depending on where you landed on the clique-ish DW message board hierarchy, you likely saw it as either a wonderful local music community or an unwelcoming place full of haters. (Insert "why not both?" GIF)
Anyway, each year we threw an anniversary show, and in 2011 Jacob Wooten welcomed us to his bar, Kobo (which is now Spacebar), where we booked Phantods, Town Monster, Time & Temperature and Ghost Shirt, who played 2010 album Daniel from front to back. Most of the room sang along to every word, myself included. Rachael Barbash documented the night beautifully. Maybe someday I'll write an essay about how much Columbus bands like Ghost Shirt meant to a perpetually tired, part-time music blogger who was stumbling his way forward while trying to parent two toddlers.
Once Barnett moved away, Ghost Shirt shows became understandably rare, but every so often the group reunites for a Columbus concert. On Saturday, Oct. 16, Ghost Shirt returns to Big Room Bar for a sold-out show alongside Sean Gardner's Bookmobile (another welcome blast from the past; check out that 2010 album, too) and long-running local treasure the Kyle Sowashes.
Ghost Shirt bassist Ryan Hayez was even kind enough to give folks a sneak preview of the tentative setlist (including a new song!), which I've copied below. Below that, hit play on Daniel via Bandcamp. I'm particularly partial to the title track, "Devils" and "Moon," but it works best front to back, just like that night 10 years ago at Kobo. 
Tentative Set List (song and album):
Jackhammer (Domestique)
Underground (Domestique)
Alexandra (Domestique)
Radio Fire (Domestique)
Domestique (Domestique)
History of the Radio (Domestique)
Sleep (Domestique)
Steam Engine (EP)
Sick w/ Love (EP)
Daniel (Daniel)
Devils (Daniel)
Civil War (Daniel)
Southern Girl (Daniel)
Lion (After the Spark)
Blood (After the Spark)
Mattress (After the Spark)
Strange Waves (New Song)
Electric Heart (Single)